ETA: correcting spelling and verbiage errors. 
Although I love my TJ906's and they're almost perfect now , there are times when I long for a typical jean. I want something that rests at the waist or immediately below. No plumber's butt for me, please. I'd like them to be semi-fitted through tummy, hip and butt i.e. skim the curves without revealing the lumps. No skin-tight, hair-counting bottom layers for public wear.  I grew up in the 60's and I'm over bell bottoms.  I even want my trousers, which have much more ease, to drape close to the body. So no big flaring legs. Not for me.  I especially want a two piece leg i.e. front and a back pattern piece instead of the 3 piece of TJ906.  Fact is, TJ906 takes more yardage than a 2-piece jean.  Definitely surprised me.  I thought that with more pieces I could shift things around and take advantage of the fabric. Not so. Each piece has a grain which must be honored. Otherwise the finished jean will twist and hang awkwardly. TJ906 requires 2-1/4 yards of fabric. Can't do it with any less even if the fabric is 62″ wide. Whereas, I  use less than 1- 7/8 almost 1-3/4 yards of 52″ denim with a 2 piece leg.
So I look around for a new jeans pattern.  I went immediately to Silhouette Patterns because I seem to be on a good-run with SP. Didn't buy.  3300 would have been my choice except  it rests 2″ below the waist and, having made 3200, I don't believe the advertised 17″ hem.   I  thought, why don't I see if there is a pattern out there that would meet my standards before buying a pattern I know is going to need a major overhaul to make me happy. I have the Jalie Jean. It is for knit fabrics with 25% stretch. I can't always buy 25% stretch. Worse yet I've had twills that stated 25% stretch  but the finished pant was too tight.  I don't want to mess with Connie Crawford's pattern again. I got it to fit me but hated the back yoke and it wasn't easy to fit.    I looked and looked and looked. Beware when  Googling "jean patterns". There were a lot of url's many of which didn't pertain to a jeans patterns.  I finally decided to give Butterick 5682 a try.  I haven't made any pants from the Big 4 in about 10 years. I absolutely could not correct the bagging in the back. But  my pants fitting knowledge has increased exponentially in the last 10 years. In fact my whole fitting process has been revised. So I purchased B5692 from PatternReview .com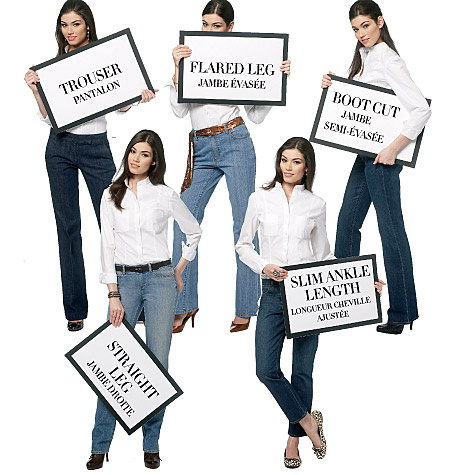 I traced the pieces of  View A, the slim ankle length jean. I was thinking about the Straight Leg, except someone wrote that the slim ankle wasn't as slim as she was expecting and she was glad she didn't trace the straight leg.  I traced the pieces for a size 18 based on the hip chart on the back. Then I started measuring and mentally subtracting the seam allowances. I think it will finish with about 1-1.5″ of ease; providing my math is right. Still after I traced, I added 1″ to the side seams. I started to cut out the pattern and then said "Wait a minute. Why am I acting like I don't have a clue about what will fit?"  I was mentally preparing for several fittings and multiple muslins. Why should I not shortcut the process by adapting the pattern to things I know about me. Like I have a defined crotch length which changes only by where the waistband rests. This is at the waist so it should be the same as my 906. I stopped and recorded lots of finished measurements from last pair of 906's and then started measuring the pattern again.  The inseam length was 28″. I like a finished inseam of 29-30.  This is ankle length and that could make a difference in the final inseam, but I don't want a jean, in the winter, which hangs above my boots. I want something I can tuck in. I decided even if I have to sew a vent for the side seam, I want this pattern to start with a 30″ inseam. Tummy and hip, probably OK especially since I added the 1″ to the side seams. Waistband came out a little long, but I decided I was good with tweaking that at the first fitting. But crotch lengths startled me. They were short 1″. Both back and front needed an extra 1″ in length. I took a think break.  My first impulse was to slash across the abdomen shorten/lengthen line and add 1″ evenly. Then I said, I'm always shortening the side seams 3/4″. Maybe I need a wedge instead of an even 1″.  I added the wedge. Trimmed the excess tissue. Reduced the crotch seam allowance to 3/8, but left everything else with the full 5/8″ SA. Then I hunted for fabric.  I wanted a non-stretch fabric. Denim or heavy twill, something that would be suitable for jeans, real jeans. Not some fancy knit jeans. Although I might like to make stretch jeans at a future date.  I also wanted a light-colored fabric so I can easily see drag lines. I may be over-confident, but I feel like I will get a wearable but probably not a perfect jean. I do think it possible the 2nd pair will be perfect/near perfect.  So I want a fabric that I won't mind wearing, i.e. not pajamas, but won't mind tossing if this goes south. Could I find that?  Not in the muslin stack. Not in the blues (my first choice because my blue bottom layers are in short supply). Not in my browns either. I do make colored pants. You know turquoise, yellow even pink but I like them for spring and summer. I have a good reason for that.  The times of the year when it is either muddy or slushy snow. Yep those times of the year cars even animals pick up and kick up dirt and deposit it on my clothing. Pastel color garments are immediately ruined. At least, I've never been able to remove the oil and whatever stains that come from those sources.  But finally my eyes did slid all the way down to a bottom row where my purple, green and teal fabrics reside. It was almost a no brainer then to select the light-olive green denim that has probably sat down there for 8-10 years. The only down side: 25% stretch. I decided to cope with it.  I pressed and laid out my fabric. Pressed and laid out the pattern pieces. I did not use the separate fly pieces, the front pocket pieces or the belt loop.  When I make belt loops I do so on the cover stitch and I cut the fabric the width needed to glide through the folder and under the needles.  I see no reason to cut a strip the wrong width.  I prefer a cut on fly. Easier and faster to sew. If you do a good job, no one can tell that it is cut on.  Besides I wear underwear always. Everyday. So I don't need to worry about my jean zipper catching tender flesh or tweezing hair. As this is a fitting, I don't like to use the pockets. I've had pockets disguise fitting issues. Interesting at how the garment will 'borrow' fabric from the pocket area and I can't tell that's what happened. So no front pockets for jeans #1. I don't use pockets anyway.  I think they create lumps where I don't want them.  So lights out. Tomorrow begins jean fitting.
Note this will be a multi-post project that  I'm leery of even being able to successfully complete.  While I don't think I'm horribly deformed, anything closer than a 20″ hem trouser is hard to fit. There have been many slacks/jeans patterns I was unable to fit to my satisfaction. But I want to take a run-at-it and I want lots of good notes so that if I am successful, I can do it again in the future. Maybe.